Looking for a secret wild swimming spot? Here are a few tips to help you find the perfect spot to take a dip.
5 Tips for finding a secret wild swimming spot
How do I find a wild swimming spot near me and avoid the crowds?
Wild swimming is very much back in fashion in the UK. The combination of good weather, lockdown travel restrictions, and less polluted rivers and lakes has seen people diving head first into our beautiful wild waters.
Despite a lingering suspicion of wild swimmers from certain corners of our society, the majority revel in the cool waters that crisscross our island, embracing the peace, tranquility and occasional hypothermic sensations that a wild swim can offer! 
This article is powered by our good friends at Go Wild Go West. 
But with popularity comes people…. in huge numbers. Though it's great to see so many new wild swimming converts (myself included), the image of a riverbank packed out like a popular beach in Marbella can be a little off-putting. You may find your peaceful swim somewhat hindered as yet another inflatable pink flamingo floats past….
So how can we find those secluded swim spots that litter Instagram? Where are they and how can I have it to myself!?
Take a look at our 5 tips for finding your own secret wild swimming places…
1. Study a map
I do love a map…. They're the treasure trail to secret adventures!!! If a sunny weekend looms and a wild swim is beaconing, the first thing I'll do is check an OS map. Wherever you happen to be, whether at home or on holiday, always check your local area on a map.
Here you can identify new potential swimming spots, normally combined with a walk (see point 2). Find a local river and track it on the map to see where there is public access (eg a footpath) and thus a potential place to enter the water. There are beautiful rivers running throughout the UK with miles and miles of riverbank all easily (and legally) accessible.
Alternatively, we'll frequently adventure up or along local streams to find hidden plunge pools and secret beaches.
Sink or swim?
It's fun to explore new places using the map but it can be a bit of pot luck…. You may find the most idyllic, deserted swim spot complete with private waterfall and feel a great sense of smugness as you cruise through the cool waters…. Or you may find a muddy, stagnant pond with only mosquito larvae to paddle with….. the challenge of finding the good ones is all part of the fun!
2. Walk
As with anything, the further away from a car park you are, the fewer people there will be. Much like a beach in summer, walk a few hundred yards from the car park and the crowds will begin to thin.
The same applies along the river. Riverbanks are fantastic for walking so find a good footpath and plan a ramble. The further you go, the more likely you are to find that peaceful spot for a secluded picnic and swim.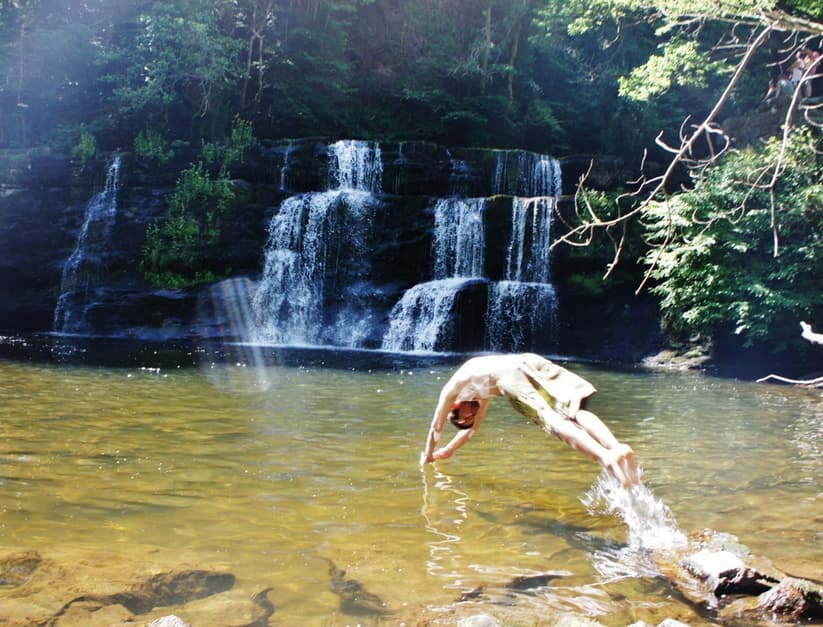 3. Avoid online hotspots
Google 'wild swimming spots near me' then make sure you avoid wherever pops up. We're a small island with lots of people, so most of the time you need to work for seclusion. If you googled it, so did everyone else!
As well as a map, there are some great lesser-known references for good wild swimming spots. We love the Wild Swimming Guides by Daniel Start. Though the books are popular, they have minimal online presence and their recommendations stay largely secret.
Share the swim love
Word of mouth is fantastic. Talk to friends, locals and other wild swimming fans to hear about their favourite swims locally.
You could also join a River Swimming Club. It's great to support these often very old institutions and a small annual membership fee can grant you access to beautiful, quiet waterways. We've been members of Farleigh Swim Club for a number of years.
4. Pick your time
As a parent, I'm only too aware of just how insane the school holidays can be! Warm sunny weather is fantastic for a refreshing wild swim but you'll likely be joined by everyone else. This isn't always a bad thing as it's great to see so many people out enjoying our waterways but it may not be what you were hoping for.
My favourite wild swims are always early in the morning or into the evening, before or after the crowds. There's nothing better than starting or finishing a summer's day with a swim; watching wildlife busy itself around you and observing the river at it's calmest.
The children love this time too. Take a thermos of hot chocolate for after your swim and sit on the riverbank to warm up and enjoy the peace for a while.
What about winter?
Let's get controversial and talk about winter wild swimming….. yes, it's definitely colder, but with the right gear it's very easy to enjoy a wild swim throughout the year…. And you're almost guaranteed to have the place to yourself (aside from the gob smacked looks of passers-bys!)
Winter wild swimming is GREAT!! It's a challenge and a huge buzz. See these great tips and safety recommendations for winter wild swimming….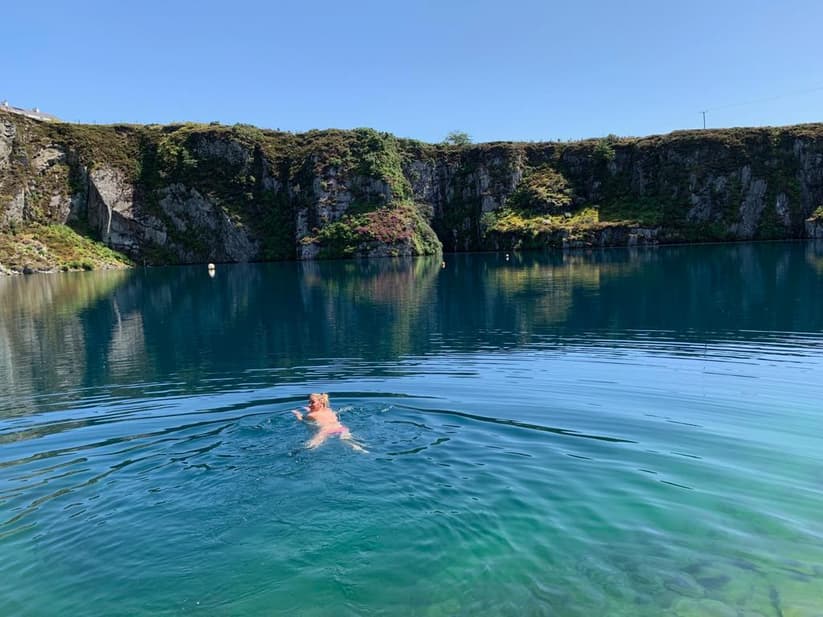 5. Be swim ready
This is one of my favourite, A-Team style catchphrases. From Spring – Autumn I am always SWIM READY!!
Whatever the weather and wherever I go, I always have a bikini or swimsuit on (or in my backpack). This, accompanied with a micro towel and a hair-tye, means that I am officially swim ready! As such, whenever a swimming opportunity arises – I'm in!
But remember, you don't always need your swim stuff. If you're comfortable and away from the crowds, get your kit off and have a skinny dip…. Nothing feels better or more like you're doing something slightly naughty than having a cheeky naked dip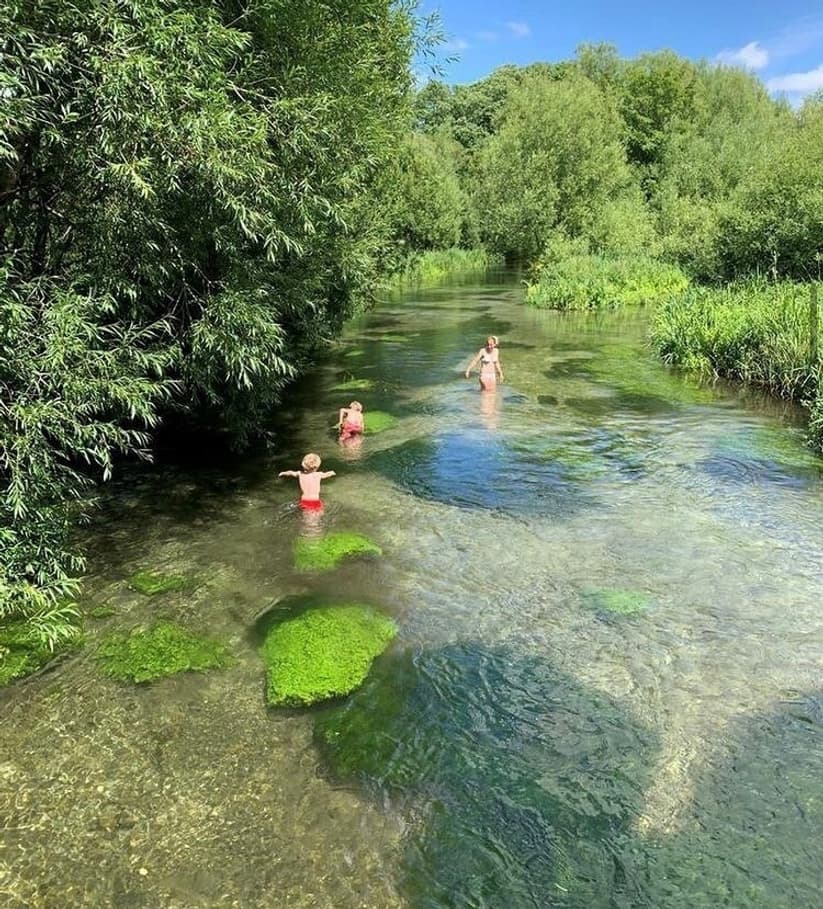 Is wild swimming safe?
As with most things, wild swimming does have its risks. Find some great tips about safety and wild swimming on the Countryfile website here:

About Go Wild Go West
Shut your laptop, turn your phone on to silent, don't even think about starting those chores, they can definitely wait!
Juggling kids, home, work, school, in-laws, dogs and everything else can be, well, a little repetitive and relentless. There's something extremely liberating about just saying 'stuff it, we're off!'
At GoWildGoWest they're intent on bringing adventure to everyday family life. We make sure there's time to get outdoors and have some fun every week, whenever and wherever that may take us.
To find out more about GoWildGoWest visit their website here