The weekly routine can get a little repetitive. Sometimes it's good to mix it up with an easy, fun mini-adventure straight after school.

Adventuring on a school night!
We've got a great selection of fun after-school activities on GoWildGoWest's Mini Adventure Page.  But have you ever thought about an over-night adventure…..on a SCHOOL NIGHT!? How about taking the children on a mid-week camping trip?
Chuck a few camping essentials in the car, scoop up the kids from school and head straight to your nearest campsite. This is easy family camping; no hassle, no stress, just a lot of fun and a great break from the standard work/school/clubs, weekly routine.
Mid-Week camping: is it worth it?
A full camping trip can take some serious preparation and planning… packing the entire house, squeezing it all into the car, travelling long distances to the campsite etc etc.
Mid-week camping is totally different. Totally refreshing. Easy. No hassle. It feels like back to basics camping from a time before it all went a bit nuts with all the kit you inevitably take.
Minimal packing, minimal travel, minimal set-up at the campsite. Instead, time to relax in the evening sunshine and enjoy your adventure.
Plan your trip
Keep it very simple. Find a campsite near you, within a 20-minute drive if possible. You may know one or google 'campsites near me'.
Pick fair weather…. This is one of those times where you really can be fussy about the weather.. If it's going to rain, choose another night!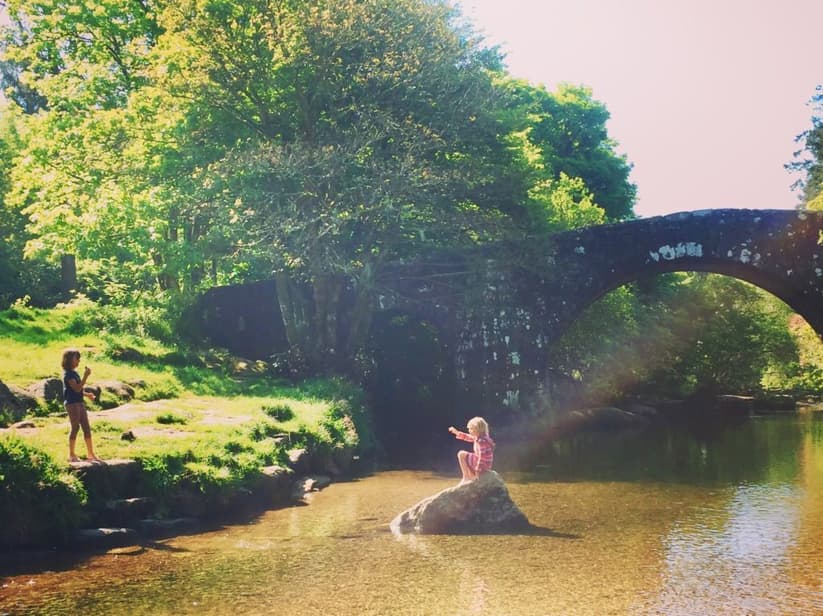 Pack only the Camping Essentials
Rather than stuffing the car full, challenge yourself to take as little as possible…
A tent and sleeping stuff of course
Camping chairs (definitely not essential but I do like a good camping chair… our Vango Embrace Chair is the comfiest one I've found by a mile!)
Clean undies and school uniform for the next day
Lantern or torch
Warm jumper/coats
Wood for a campfire
Food: keep it totally simple.
Dinner – chose something super easy, like grilled frankfurters or halloumi in a bun, or a baked bean sandwich (yum!) Plus a pan to cook over the fire.
Breakfast – cereal and milk (with bowls and spoons)
Marshmallows
Wine (of course)
Coffee for the morning. Maybe even take a thermos of coffee which will keep warm until the morning
No campfire? Pack a campfire cooker for boiling water/cooking dinner.
If you're looking for a full camping checklist; find one here.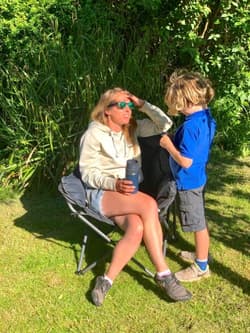 Head for adventure
Pack in the morning before the school run. Then after school, scoop up the kids and head straight to the campsite. Aim to be at your campsite by 4.30/5 at the latest.
Pitch up your tent and set up your beds.
Our tent (Vango Joro Air) is perfect for this adventure, loads of space for the 4 of us, plus 2 dogs and super easy to put up. We were a bit geeky and timed how long it took to get it set up…. 19 minutes!! Happy days.
Get the campfire going and relax for the evening. No chores, no homework, just good fun with the family.
When you wake up
In the morning, get the kids fed to avoid any hanger issues. Then work together to pack up (shouldn't take too long as you haven't got much stuff) and get the tent down.
Save the washing up for when you're at home and have more time.
Then chuck everything and everyone in the car and arrive back to drop the kids straight into school and head direct to work buzzing after a night of adventure!
Featured campsites: Wookey Farm Campsite, Somerset and Huccaby Farm, Devon
Thanks to Vango for our tent and chairs. They were gifted items but I would 100% recommend them. 19 minutes to put up a family tent? – Yes please!

About Go Wild Go West
Shut your laptop, turn your phone on to silent, don't even think about starting those chores, they can definitely wait!
Juggling kids, home, work, school, in-laws, dogs and everything else can be, well, a little repetitive and relentless. There's something extremely liberating about just saying 'stuff it, we're off!'
At GoWildGoWest they're intent on bringing adventure to everyday family life. We make sure there's time to get outdoors and have some fun every week, whenever and wherever that may take us.
To find out more about GoWildGoWest visit their website here