This article is something I feel very strongly about. I have first hand experience which I know will resonate with most readers. However I must stress that I'm not a medical professional and this article is based purely on my own personal thoughts.

Anxiety, mental health and ongoing health conditions are something that effects us all, from the most gentle rambler to the most experienced explorer!
The benefits of getting outside
I have been a huge advocate of the benefits of getting outside in relation to one's overall well-being. This includes things from simply getting fresh air to a cardiovascular workout. What's more, it gives us time to breath and reflect away from the hustle and bustle of work life or even, sometimes, the stresses of family life. The positive endorphins produced that a walk, hike, bike ride or just following a nature trail in the countryside can be enough to bring you out of that low you've been experiencing. Whilst out try to take time to take a look around. Look for specific objects, wildlife, cloud formations and plants. So often we rush through life without taking the time to see whats around us. As adventurer and broadcaster Ben Fogle says, "always look up".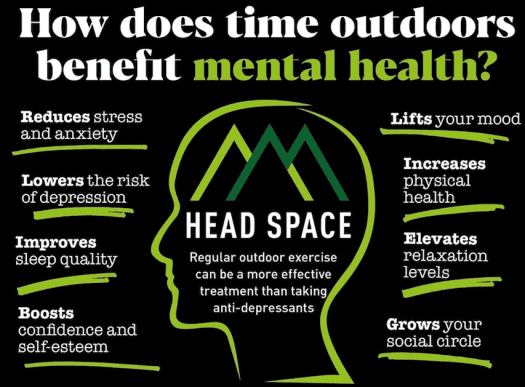 Regular outdoor exercise benefits mental health
Anxiety and epilepsy
My personal story is one of anxiety and epilepsy. As a teenage boy of 16, I had just finished secondary school with many plans ahead full of of fun, girls, pubs, lads' holidays and much more. However, the night before my first lads' holiday, I had my first seizure forcing me to cancel my holiday.
After several hospital tests and meetings with consultants I was diagnosed with epilepsy. I'm not going to go into the long and in-depth details of the condition or what I went through for the first couple of years after being diagnosed. Let's just say it wasn't a happy time for me and I felt my world had come crashing down.
The reason I'm telling you is not for sympathy about the condition or self pity. Instead I want to tell you how I got back from those initial years of depression and feeling of inadequacy. Being seizure free for over 20 years. Holding a full drivers licence. Becoming an active adventurer, survivalist, bushcrafter and lover of outdoor pursuits.
Taking a dog for a walk can be a great reason for getting outdoors
Accidental road to recovery
The road I took was one of accident really. It all started with my pet dog, a Border Collie, called Dan. One of his favourite places to walk was the open moorland of the Peak District National Park. As I had lots of spare time I began to walk Dan on those moors regularly during the week. No matter the weather!
After a while I noticed a pattern had emerged. Each time I returned home from the walk I felt energized. I felt alive and hopeful of what tomorrow might bring. Most of all I was a happier person. I'm sure this was a huge relief for my concerned parents.
The outdoors helps prevent depression
This was the start of my love of the outdoors. The outdoors (and Dan) helped me with my depression, fear and a lifelong medical condition. There are many stories to tell and adventures of what Dan and I got up to. One time he even saved my life – but that's another story! It has enabled me to become who I am today and hopefully inspire others to get outside.
Enjoying the wonders of the natural environment
On becoming a father for the first time in 2010 something new began to challenge me. It took me a few trips away on adventures to realise what it was. However on returning home one night I put the pieces together. I went in to kiss my son good night and it hit me.
Anxiety! Wow! That's such a misunderstood and downplayed term. I didn't really know anything about it or how to deal with it. All I know is that since becoming a father the anxiety felt on adventures can be, if not controlled, crippling. NHS UK states that "anxiety can cause many different symptoms, it may affect how you feel, physically, mentally or how you behave". It also says "a panic attack can last between 5 & 30 mins. They can be very frightening and exhausting but they're not dangerous in a safe environment".
Natural instinct of protection
I put my anxiety down to the natural instinct of protection and the need to be there for my sons. Whilst scrambling across a knife edge mountain ridge or abseiling overhanging ledge routes all I can think about is getting home to my boys. This, for me, is an ongoing battle which I'm currently winning. Taking calm breaths, managing the fear, practicing mindfulness, having a healthy diet and good sleep patterns all help. I wont let anxiety stand in the way of my adventures.
Conquering the inner mountain
We all have our own personal demons to fight with on a day to day basis. To us they may seem huge yet to others may seem tiny. They are our demons and our thoughts and our concerns. They're not irrational or stupid or childish but they are all beatable! We can learn to break through the fear and overcome our own restrictions. Coping mechanisms can be learned and we can fight back against that sometimes invisible enemy. Not only can we win but we can come through it stronger than ever. That inner mountain can be conquered!
I want to leave you with a few quotes that I think are poignant to this topic:
"for one minute, walk outside, stand there in silence, look up at the sky, and contemplate how amazing life is".
"sometimes when you're in a dark place, you think you've been buried, but actually you've been planted".
"just when the caterpillar thought the world was over, it became a butterfly".
"life isn't about waiting for the storm to pass, its about learning to dance in the rain".